Mohs Surgery
What is Mohs Surgery?
Mohs surgery is a highly specialized and precise treatment for skin cancer in which the cancer is removed in stages, one tissue layer at a time. It is an outpatient procedure, performed under local anesthesia, and is distinguished by a specific technique of tissue examination that is unique to Mohs surgery. Although other surgical specialists may check excision margins, this form of pathologic examination of the tissue is not the same as Mohs surgery.
Once a tissue layer is removed, its edges are marked with colored dyes, and a map of the specimen is created. The tissue is then processed onto microscope slides by a Mohs histotechnician. These slides are carefully examined under the microscope by the Mohs surgeon so that any microscopic roots of the cancer can be precisely identified and mapped. If cancer cells are seen, an additional tissue layer is removed only in areas where the cancer is still present, leaving normal skin intact. This saves as much normal, healthy skin as possible.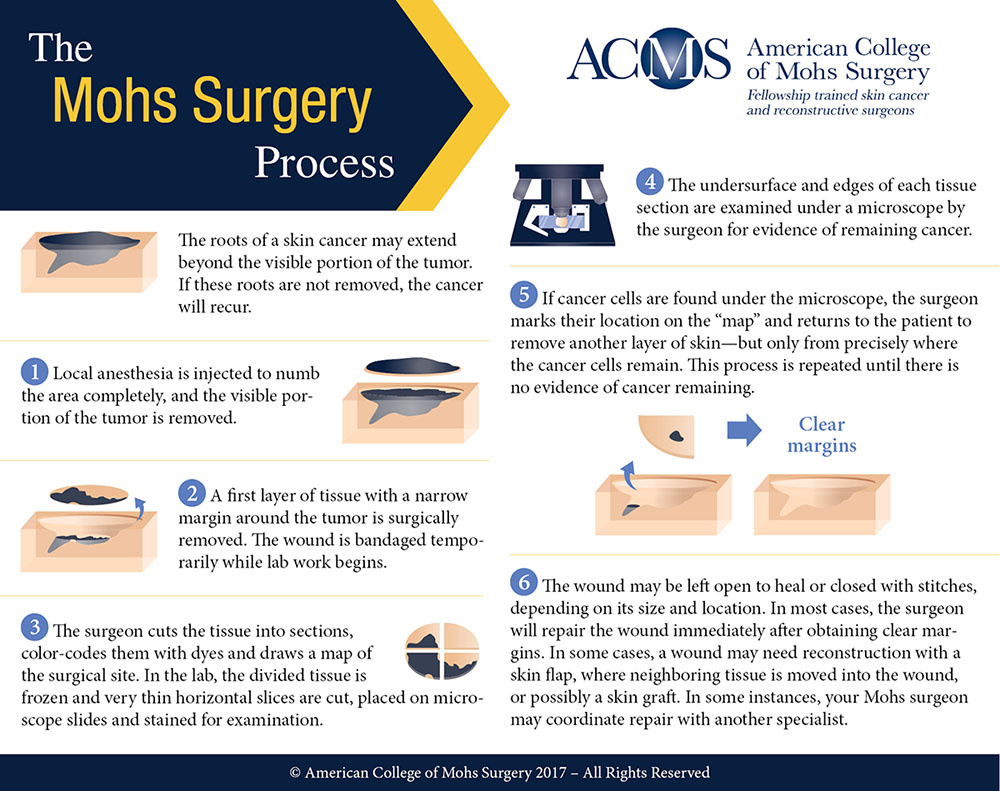 Once the cancer has been removed, the Mohs surgeon will explain options for repair of the wound, including natural healing (granulation), stitching the wound together using a side-to-side closure, or using a skin flap or graft.
Why Choose Mohs?
Mohs surgery has the highest cure rate. It is appropriate for most skin cancers and especially suitable for skin cancer that:
Is in an area where it is important to preserve healthy tissue for maximum functional and cosmetic result
Was treated previously and has come back
Is located near scar tissue
Is large
Does not have clearly defined edges
Is growing rapidly or uncontrollably
Is of an aggressive subtype (i.e., sclerosing or infiltrating basal cell carcinoma)
Develops in organ transplant or lymphoma patients
Please note: the above list is not exhaustive of all of the instances where Mohs surgery is the most appropriate option for your skin cancer.
Why Choose Wake Skin Cancer Center?
Mohs surgery is a delicate, intricate, highly effective treatment for skin cancer. While many physicians may perform Mohs surgery, board certification is not required. If you are interested in treatment of your skin cancer through Mohs surgery, how do you choose a qualified doctor?
It's important to choose a fellowship trained Mohs surgeon who is a member of the American College of Mohs Surgery. Mohs College surgeons have undergone at least 1 year of fellowship training beyond dermatology residency, which allows for additional experience in all of these specialized processes and techniques.

While any board certified dermatologist may perform Mohs surgery, only members of the American College of Mohs Surgery (ACMS) have undergone rigorous fellowship training. Chosen through an extremely competitive review and selection process, fellows are required to complete an intensive 1 or 2-year post-residency ACMS fellowship training program. This extensive training includes participation in at least 500 Mohs surgery cases under the supervision of an experienced ACMS-approved Mohs surgeon.
After his medical dermatology residency, Dr. Ayli completed his Mohs Micrographic and Dermatologic Oncology fellowship in Georgia, under the direction of Dr. David E. Kent, a nationally renowned Mohs micrographic and reconstructive surgeon. During his fellowship, Dr. Ayli received extensive training in Mohs micrographic and facial reconstructive surgery.
After this fellowship and prior to his arrival in North Carolina, Dr. Ayli spent over four years serving patients of Pensacola and the Gulf Coast region under the auspices of Dr. William B. Henghold, a prominent Mohs micrographic and reconstructive surgeon. There, he performed nearly 7000 Mohs surgical cases, acquired expertise in advanced facial reconstructive surgery and the treatment of aggressive skin tumors, and was one of only a handful of Mohs surgeons in the country to utilize Mohs micrographic surgery for the treatment of melanoma.